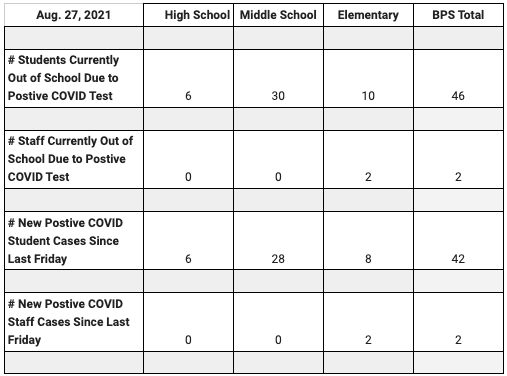 Broncho Family,
As promised, each Friday we will send you a BPS COVID update.  
Attached is the data for this week.
Reminders:
Our overall goal is to keep students and teachers healthy and in school 5 days per week the entire school year.
We believe masks mitigate the spread of the virus. 
We strongly encourage you to consider sending your child to school in a mask.
Please consider getting the vaccination for your child if they are 12 years old or older.
Please remind your children to wash their hands or use hand sanitizer frequently.
We need substitute teachers! If you are willing to substitute even 1 day per week, call Carolyn Work at 405-789-3801 or email her for more information at cwork@bethanyschools.com

Thank you for all your calls and emails concerning masks, virtual school options, and mitigation strategies. We value your input. We continue to appreciate the positive and respectful tone of the calls and emails. That is the Broncho Way! 
No matter what comes our way this year, we are better together.
Drew Eichelberger
Superintendent of Schools