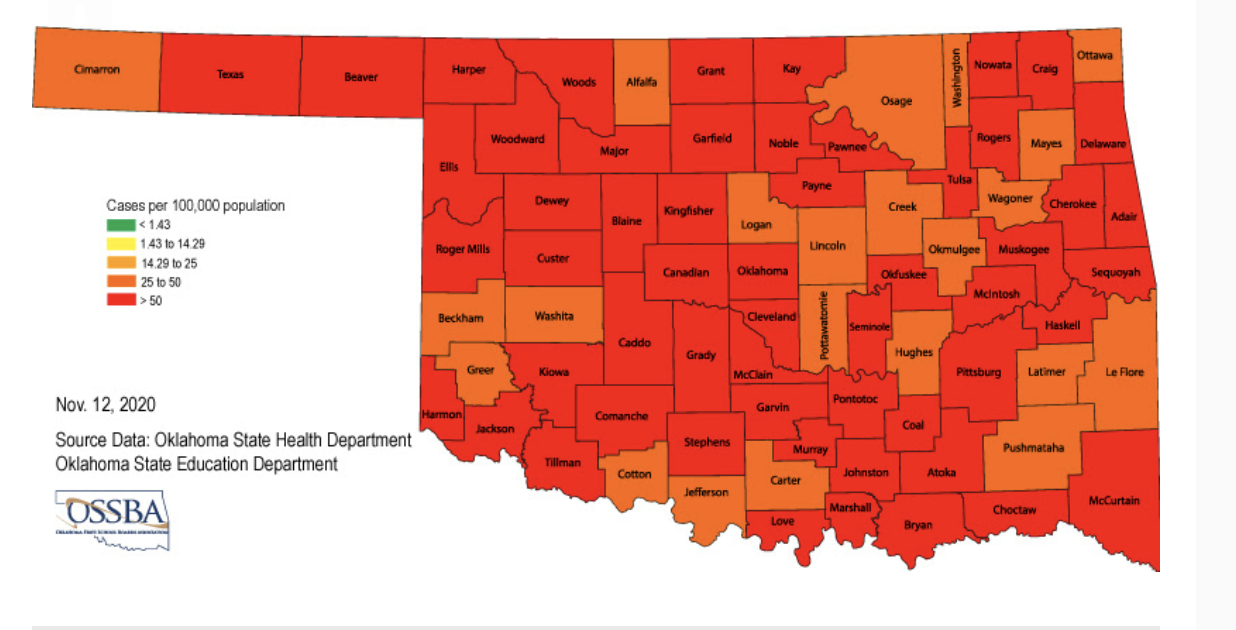 Good Afternoon Broncho Family,
I wanted to give you an update on our COVID-19 numbers for Bethany Public Schools.
Please notify the school when anyone in your household tests positive for COVID-19 or exhibits symptoms. When parents call to let us know someone has tested positive in their home, it allows us to get that information to the contact tracer more quickly. The contact tracer then gathers the necessary information and makes their decisions much more quickly than if it passes through normal channels. This allows us to notify those who have been exposed sometimes days faster. Quicker notification ultimately reduces the number of sick or quarantined students and staff.
The map pictured is a screenshot of the updated COVID-19 map (figure 1) we use to determine what level we are on on the Bethany Bronchos Health and Safety Protocols (figure  2) Last week we were at an Orange-2 level, this week Oklahoma County has moved to the Red level. The map below is slightly different than the one we have shared in the past. The OSSBA website has not been updated and we wanted to get this information out to you as quickly as possible. Everything 50 and above are in the red category. As you can see, Oklahoma County is 67.3.
The Plan for BPS
We believe the best place for students to learn is in our classrooms. Our Bethany Bronchos Health and Safety Protocols include "Based on conditions in the district (ie sickness of students or staff or other factors) one or more schools could move up or down a level without meeting these criteria. District Indicators Include: Student absence > 25% or Staff absence > 15%".
High School and Middle School Plan
We are going to remain in the A/B schedule in middle school and high school. 
Elementary Plan
In elementary we are moving to a modified schedule. All students will attend 4 days per week (M,T,Th,F). Wednesday will be a distance learning day for all students. This plan will begin Monday, November 30. Details on this plan will be sent by Mr. Bellows shortly.
Distance Learning Anytime
Any parent who would like to move their child to distance learning can do so at any time. If you want to move your child to distance learning, please contact the school your child attends.
We Need Your Help!
Our goal is to keep students in school and get back to 5 days per week as soon as possible. We need your help. We encourage all staff and families to continue social distancing, hand washing, By ensuring your children are social distancing, hand washing, use of hand sanitizer, and wearing masks when in public, you will help us all stay in school.
Thank you for your continued vigilance in an effort to stay safe and have in-person school.
As always, thanks for your support of Bethany Public Schools.