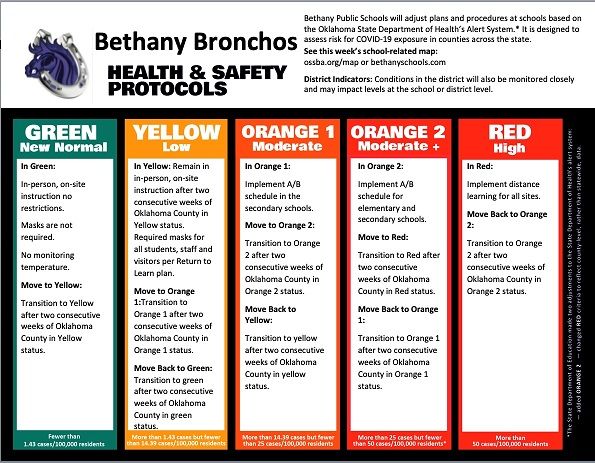 Good afternoon Broncho Families,
I hope you are all doing well. As you probably remember, we have a plan to determine when we will transition from A/B schedule at the MS and HS to all students attending in person 5 days per week. This is based on the color coded matrix put out by the Oklahoma State Department of Health each Friday. As you can see in the graphic below, it requires 2 consecutive weeks in a color category above or below the current category to move to a new category. 
Last Friday Oklahoma County changed from Orange to Yellow. That means we are currently in week 1 of yellow. If we sustain our yellow status when the updated matrix comes out this Friday, next week would be week 2 in yellow. Stated differently, if the OSDH color coded system indicates Oklahoma County is yellow when it comes out this Friday, September 11, we would be in week 2 of yellow September 14-18 and return to school for in person learning Tuesday, September 22 (Monday September 21 is a professional day).
Families who have chosen full time virtual learning for their children will remain as virtual learners for the first semester of school.
As a reminder, masks will be required for all students, staff and guests.
If you have questions about this or any other topic, please call your child's school. 
Thank you for your support. We look forward to seeing all the Bronchos back together very soon.
Drew Eichelberger
Superintendent
Bethany Public Schools